Cancel culture is still rampaging through society.
The "woke" censors will not stop.
Now jaws have dropped when the Kardashians' links to this canceled fundraising campaign came to light.
Perhaps the most terrifying development in "woke" cancel culture is going after people's money.
It's bad enough to harass companies and organizations to fire people who cross the "woke" mob, but it's another thing entirely to go after banks and payment processors.
This is what has been happening with greater frequency over the past few years.
The organization and individuals behind the Canadian Trucker convoy became prominent examples after it was blocked from receiving money from fundraising campaigns and was briefly denied bank access.
But it's not just protesters feeling the squeeze; it's everyone who counters leftist orthodoxy.
Even liberal feminists are getting "canceled" for not going along with the entire trans agenda.
Liberal cartoonist reported drew censors ire for opposing radical Left's gender mutilation push
Animator and cartoonist Nina Paley had her fundraising campaign for a comic book canceled by crowd-funding platform Indiegogo.
I successfully raised 150% of my comic book goal on @Indiegogo. The campaign officially ended Tuesday. I just ordered books from the printer.
IndieGoGo just canceled the campaign, refunded the donors, with no appeal. All the money, funders, orders, gone. pic.twitter.com/8rOfcd1YQa

— Nina Paley (@ninapaley) January 5, 2023
The comic Agents of H.A.G. (Humorous Acronym Gag) featured superheroes named "Menopausal Woman" and "Sidekick."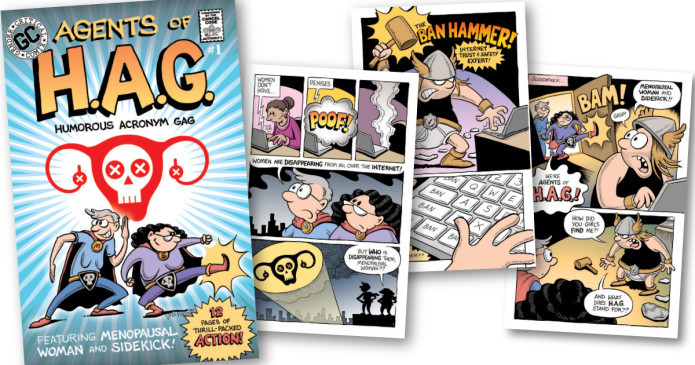 Paley's Indiegogo campaign was not canceled for content.
It was canceled because far-Left activists have been after Paley since 2017.
Paley was branded a TERF—trans-exclusionary radical feminist—the same label used to criticize Harry Potter author JK Rowling.
Paley first got in hot water when she wrote about the former Olympian and Keeping Up With the Kardashians star Bruce Jenner, who now goes by Caitlyn after Jenner evidently endured years of emasculation.
Paley said that "many angry liberal friends called me 'transphobic,' and told me to 'educate myself.' They apparently didn't know I had spent many years deeply involved in various queer scenes in San Francisco, and had trans friends, and was gender dysphoric myself (it resolved in my mid-20's, which is not unusual.) Since I couldn't 'educate myself' much more on trans people and queer theory, I considered what I really hadn't educated myself about: radical feminism. Like everyone else, I had been denouncing 'TERF's without reading anything they'd written. So I started reading, and quickly realized I was a gender-critical radical feminist."
She compounded her grave "sin" by posting on Facebook, "If a person has a penis he's a man…[E]veryone is free to identify however they wish, but not to force me to identify them the same way."
Since then, Paley has been "canceled" numerous times.
Venues set to screen her films were shut down after unhinged activists complained.
Fundraising platforms like Indiegogo won't even allow people to receive money from people that want to patronize their work.
The Left are going full totalitarian, and they're eating their own.
Stay tuned to Unmuzzled News for any updates to this ongoing story.